CLEO is basically a suite of applications. The following documents what applications exist in the GBT implementation of CLEO and summarizes what they do.
The list of available CLEO applications grows weekly. In most cases, you'll use the CLEO Launcher to start an application (see Getting Started with CLEO for how to start the CLEO Launcher; more experienced users may want to look at the CLEO manual pages for how to bypass the CLEO Launcher.).
If you are using the CLEO Launcher, the available applications can be found on a tear-off, cascading menu that you generate by either left-clicking the mouse on the big CLEO button or on the "Launch" menu bar item. The few applications that are still in development, and have not yet been released, are disabled in the menu (e.g., the Prime Focus 2 receiver in the example below).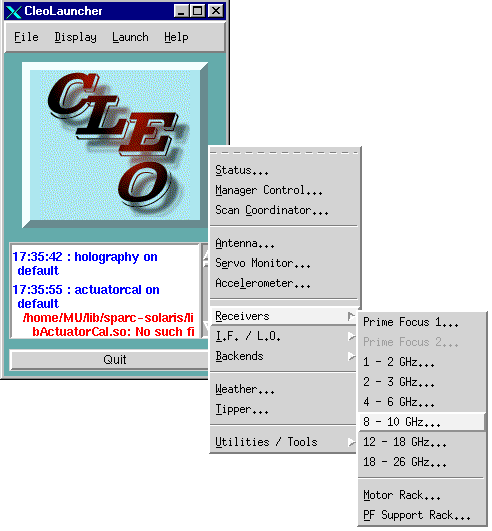 The following lists the anticipated set of applications (though, more will probably exist in the final product).