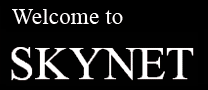 Skynet 20m: Education and Science Collaboration
Skynet is a world wide network of astronomical telescopes operated by the University of North Carolina at Chapel Hill. The NRAO has developed a 20m radio telescope to provide a radio view of the universe. The 20m telescope is located at the Green Bank Observatory in West Virginia and provides observations at 1.3 to 1.8 GHz and 8 to 10 GHz.
Skynet Junior Scholars
Skynet Junior Scholars Forum
Example Data
Explanation of data files.
Quick Map Plots

The link gets the latest observation from the 20-meter.
Most Recent Observation: quick look
OCU clock status


Receiver Cryogenic Temperatures

The Skynet reciever amplifier is cryogenically cooled to 15 K (-433 Fahrenheit), in order to obtain the highest sensitivity to the radio sky.

The plot at right shows the current receiver temperatures, from the real-time logs.
The cryo logs are in /home/fpga/cyborg/skycode/rcvr/log/ ; file names like "yyyy_mm_SkynetLband"

Receiver power levels

Receiver power is monitored every 2 minutes.
The power logs are in /home/fpga/cyborg/skycode/rcvr/log/ ; file names like "pwr20_yyyymm"
filter, RA/DEC and AZ/EL also logged in these files.

Receiver Log

The 8-10 GHz receiver was installed on the 20m on 2012 March 22.
The first L-band receiver with 18 cm feed installed 2013 Aug 5.
1360-1430 (HI) feed installed 2013 Aug 15.
Back to 8-10 GHz receiver for special satellite detection tests, 2014 July 15.
Wide band HI/OH receiver with new wide-band feed (1300-1800 MHz) installed 2014 Aug 12.
Wide band HI/OH receiver removed for repairs and calibration 2015 Sept 14.
8-10GHz receiver installed 2015 Sept 15.
Wide band HI/OH receiver re-installed 2015 Oct 15.
Wide band HI/OH receiver removed for diagnosis and repairs Nov 13, 2015
Wide band HI/OH receiver installed again on the 20-meter, Dec 8, 2015
RFI spikes eliminated, but cryo started rising Jan 19, 2016
Cryo and feed problems fixed Mar 7-8, 2016, but receiver warmed up again.
Mar 8 to April 4, 2016, used for Skynet observations with Tsys ~ 100 K.
April 4, 2016, L-band receiver back in the lab to replace the vacuum window.
April 21, 2016 repaired receiver re-installed -- Tsys now ~ 30K.
2016 Aug 11 Replaced refrigerator.
2016 Nov 17 to Dec 14 - offline to replace leaking oil seal.
2016 Dec 18 to Dec 22 - offline to replace refrigerator and fix brake sensor.
2017 July 20-Aug 4 - receiver warm; trying to fix leaks.
2017 Aug 16 --L-band Receiver removed for repairs.
2017 Aug 18 - X-band receiver installed.
2017 Nov 28 - L-band receiver re-installed after repairs.
2018 Aug 15 to Sep 14 - L-band receiver in the lab for repairs.
2018 Sep 14 - L-band receiver installed; cals and power levels fixed by Sep 19.
2018 Dec 7 to Jan 15 - Lband receiver in the lab for fixing cryo leak.
2019 Apr 30 to May 14 - 450 MHz feed installed for Cubesat tests.
2019 May 15 - L-band receiver back in operation; Y-channel is dead.
2019 Jun 28 to Jul 30 : receiver warmed up; refrigerator replaced. Ychannel still dead.
2019 Dec 7 - Jan 6 : offline due to AZ brake faults.
2020 Feb 05 to Mar 13 : Reciever in the lab for several problems.
2020 Mar 13 : All working including both channels.
2020 Apr 08 : Power outage ; cryo and MCB out.
2020 May 27 : receiver cooled - all back to normal operation.

Documentation

There is a document archive : 20-meter documents and memos.

The 20-meter Skynet project documents are kept on the NRAO internal WIKI for SkyNet.

Local technical information is on The GB/Skynet wiki web.
Get in touch
Contact people:Will Armentrout (20 Meter Scientist), Sue Ann Heatherly (Education Contact), or Brenne Gregory (Data Analyst)
Email: 20mops-at-nrao.edu

---
---

Revised Apr 2014
Revised Mar 2015
Revised Sep 2015
Revised Feb 2017
Revised Oct 2018