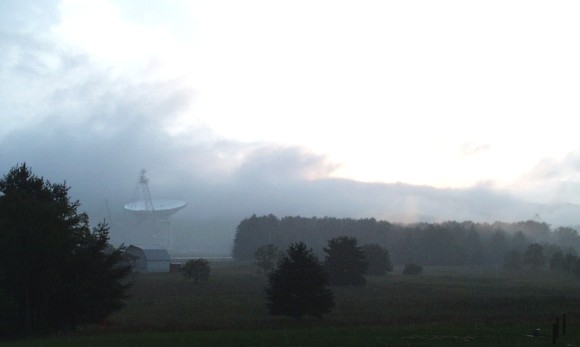 Year 1: Investigating the Universe Research Institute
As a member of a district team you will participate in a two week summer institute at the National Radio Astronomy Observatory in Green Bank. Working with astronomers, and science educators you will have the opportunity to:
conduct research projects using your forty foot diameter radio telescope.
take an astronomy mini-course which includes field tested activities that you can use in your classroom.
discuss cutting-edge research in radio astronomy with the scientists involved.
visit NRAO people and facilities including the magnificent Green Bank Telescope.
work with science educators to create research projects to implement with your students.
PLEASE NOTE: 2004 was the last year for YEAR ONE. Contact Sue Ann at sheather@nrao.edu if interested in the 2005 Hands-On Universe workshop
Year 2: Hands-On Universe Technology Institute
Building on your research experience, you will return to Green Bank for a one-week workshop which will guide you in the use of the Hands-On Universe Image Processing (HOU-IP) software. HOU-IP is a data reduction software/curriculum package developed by astronomers and teachers that allows students to analyze astronomical images. During the HOU Technology Institute, you will:
participate in astronomy investigations using the HOU-IP software.
become familiar with other astronomy software products, and astronomy resources on the Internet.
design a research project for your students using HOU-IP.
participate in education sessions designed to enhance your leadership skills.
Year 1: Working with other teachers in your district you will:
implement and evaluate two original research projects with your students. Both projects will be coordinated and thematic across the grade levels of your team.
share information and ideas with other participants and staff via the Internet.
participate in 7 days of leadership training - four of these days will be in conjunction with Project CATS sessions. Work sessions with your team members will comprise the other 3 days. During these sessions project staff will help you develop your classroom projects, and prepare you to lead professional development workshops for other teachers in your district.
PLEASE NOTE: 2004 was the last year for YEAR ONE. Contact Sue Ann at sheather@nrao.edu if interested in the 2005 Hands-On Universe workshop
Year 2: Working with other teachers in your district you will:
implement and evaluate a research project with your students using the HOU-IP program.
participate in 3 days of leadership training. Project staff will assist you in refining your classroom research projects and help you design professional development workshops.
conduct 2 Professional Development Workshops for teachers.
| | | |
| --- | --- | --- |
| | | |
New Knowledge: Work with other teachers to learn astronomy by doing astronomy!
Stipend: $60/ day will be awarded to participants for summer and academic year activities. Lodging and meals at the NRAO will also be provided.
Graduate Credit: WVU will award Nine Hours of Graduate Credit after successful completion of your responsibilities to the program. After year one you will receive 6 hours of credit, 3 in astronomy if you choose and 3 in science education. After year 2 you will receive 3 hours of credit in science education. Tuition waiver will be granted.
Software: After participating in the HOU Technology workshop, you will receive HOU software and curriculum, and a site license for your school.
Privileges: Internet access to optical telescopes around the country, and to the forty foot telescope at NRAO. Graduates of the program gain special access to the NRAO.
| | | |
| --- | --- | --- |
| | | |
We are seeking district-based teams of K-12 teachers in all W.V. counties, and surrounding states especially in rural counties served by ARSI. Preference will be given to teams that contain at least one elementary teacher and one Project CATS leader. Teams of 3 teachers are preferred, but teams of two and four teachers will also be accepted. Application forms are here.
FAQ: Do I need to know anything about astronomy or radio astronomy to participate? No! All you need is curiosity!
District Support:
Applicants should include a letter of support from their school district with their applications. The school district must agree to provide:
access to computers and the Internet.
release time for travel to academic year meetings.
funds ($500/team) for materials that you may need to implement your classroom research projects.
For applications and information on acceptance into RARE CATS contact:
Pat Obenauf, Co-PI
604P Allen Hall
West Virginia University
Morgantown, WV 26506
(304) 293-3442 ext. 1325
For more information about the program contact:
Sue Ann Heatherly, NRAO
PO Box 2, Green Bank, WV 24944
(304) 456-2209